Eco-Tourism in Ecuador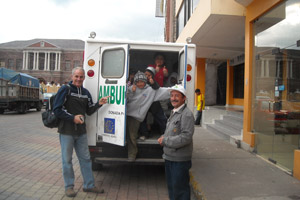 When asked if I wanted to be a pilot tourist to test a new community tourism project being put together in Mulalillo, I was both hesitant and motivated. I thought that on the positive side, the people involved would be all out to please, but on the other hand, I could possibly encounter numerous teething problems.
On arriving in Salcedo to meet my future hosts, I had the surprise of being met with an ambulance! A first in my experience, and it was filled with the kids who were bubbling with excitement along with Gladys the hostess and Don Bolivar, one of the instigators of the project.
I was accommodated in a new house that Gladys had built with tourism in mind, with a very comfortable warm bed, but other facilities were lacking. It was missing water, a hot shower, and the kitchen was far from being recognized as such. But to my pleasant surprise, meals prepared and eaten in the family's old kitchen, a few steps away from the newly-built house, were a cozy and friendly time during each meal.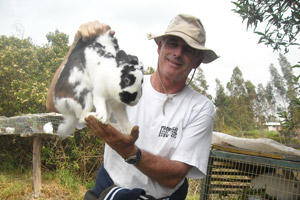 The meals were typical of the region, starting with soup with various vegetables grown more or less organically behind the house, rice or potatoes, and chicken or meat. That would be followed by a more substantial dish, usually rice or potatoes with some form of meat and veggies, and washed down with an oregano tea or a broad bean coffee mixture. Fresh juices were usually served with the meal - either tree tomato, pineapple, blackberry, strawberry, babaco, guava or other. The meals were varied enough, well-balanced, and I never left the table hungry. I was lucky enough to be there over the Christmas week, so Xmas dinner was roast turkeys washed down with red wine which I supplied. The week's evenings included village fiestas, processions and dancing, a local habit being that people circulated throughout the crowd with bottles of Claudia plum wine or peach wine with a shot glass, and everyone participated. They had hired a bus to transport numerous friends and family to visit both the town square and other family residences in the area, each visit providing more food and beverages following local customs, and a lot of dancing.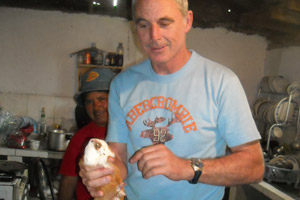 Unfortunately work had come to a standstill on the new bathroom facilities due to a lack of funds and family members being too busy working on daily tasks. So showering was done in the family bathroom, with a death machine electrical heating system attached to the shower head which could only be turned on to a drip-by-drip due to the fact that any extra pressure sent the temperature pummeling down! After numerous shocks, and considering the family's motivation and friendly reception, I decided to help them out (and future visitors) by buying a gas heater and the necessary plumbing fittings to complete the installation in the new house. This was done at the end of the week, after observing everything being done and what was needed.
The week's activities included a day's outing up to San Diego village at 3800m, helping to separate chaff from barley, picking broad beans and digging up fresh potatoes. These were prepared by the farm owners while we went up to 4000m into a pine forest to harvest wild mushrooms. After that, the beans and potatoes lunch was eaten between the donkey and the pig.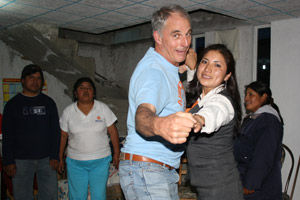 Another morning we visited the different "ferias" or local markets, seeing the amazing variety of fruits and vegetables available at a ridiculously low cost. There were many cattle, pigs, sheep, donkeys and llamas being bought and sold. Kind of a strange feeling being the only westerner in the whole town, but I received many friendly hellos from people. Seeing the shaman venting and selling his various herbs and concoctions with an avid audience confirmed to me that I was in another world.
We also visited a small valley up from Mulalillo's main park where I cut alfalfa grass and fed it to rabbits and guinea pigs, and received a lecture about their different origins and how to raise them from the enthusiastic owner. That was followed by a visit to the local cheese and yogurt factory to witness fresh cheese and yogurt production, coming away with samples of course.
For me, one of the highlights of the week was a trip in the back of a pickup truck to the secluded Aluchan thermal spring which was reached by a 300-400m descent down a path at 4000m altitude. It was a cold environment, which made the hot pool even more appreciated, although the walk back up the path also soon warmed me up again. At the pickup truck, the girls prepared a meal of rice, potatoes and roasted guinea pig --definitely an acquired taste.
Each morning before embarking on the day's activities, I participated in the daily chores such as milking the cow for the morning's breakfast, feeding the chickens, slops to the pig, and alfalfa cuttings for rabbits and guinea pigs. These chores were sometimes shared with the kids. Communication was rather limited with my minimal Spanish, but anyway they were more often in fits of laughter. I soon began to appreciate the people and what they were trying to accomplish in Mulalillo, so I decided to go back after the first week to help them out with their project and spent three more enjoyable weeks with them. The shower now functions well, and they are gradually making improvements around the place.
I had never participated in this sort of tourism before, always preferring to be a loner and to avoid the over-exploited tourist haunts. I was pleasantly surprised with this venture, and would add that in my opinion, I don't think this will ever be overdeveloped tourist-wise. I thoroughly recommend the week's journey into a daily lifestyle of one side of the real Ecuadorian culture where they are doing a maximum with a minimum, spiced with sincere friendliness and a genuine welcome. Try it!
Mulalillo's 1st tourist: Gordon Smith
Reunion & New Zealand.
February 4, 2009
* * *
If you are looking for a slightly alternative trip while you are in Ecuador then I would highly recommend this trip. This trip is maybe not so involved with helping the community as the others but if you are looking to experience a host of activities that you will otherwise never come across then this trip is for you. Alejandro was very informative and a thoroughly professional guide whose English is excellent. With activities ranging from banana (when banana picking I strongly recommend some good footwear as the machete you will use can cut your foot very easily as I found out) and mango picking to digging your own yuca out of the ground and preparing it with the local family was a good experience. Seeing how the local thatched roofs were made was another worthwhile skill to see and do.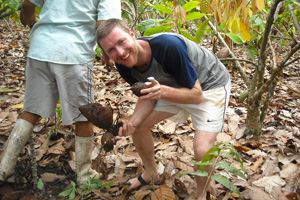 The next part of the trip is in a very small local village where there is no internet or mobile phone signal so prepare to go to back to basics and see some local handicrafts being made and get involved with the local fishing and catching octopus. Though for me one of the most interesting parts of this trip was learning how to make real chocolate -- the smell of it being ground after the preparation lived with me for quite a while. When making the chocolate they use a very special ingredient when cooking the beans (but I'll let you discover that for yourselves) . The whole village is a real experience, especially the host family which can only be described a real surprise! (But again I'll leave you to discover that for yourselves -- I wouldn't want to ruin the surprise.)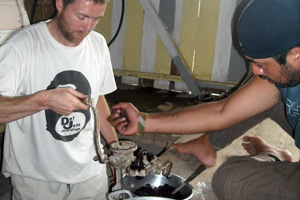 After that it's back to the first host family and a chance to go crab fishing and drink and eat your self-harvested coconut. This is then followed by a night partying by the beach, which rounds off the weeks activities quite nicely, though if you can take your own power generator to the party then you'll never be without friends as I think power cuts seem a common occurrence. If you can't fit one of those in your rucksack then a few candles won't go amiss I am sure.
If you want hot power showers and you are a bit of a clean freak then this maybe is not for you -- This is not to say it's dirty, but what we class as clean maybe a little different to relatively poor people living on the coast. In general if you are prepared to forego some luxuries and really want to see what life is like on the coast the rewards are worth it. One last thing -- please take some mosquito repellent and ear plugs if you value more than one hours sleep a night.
Stephen Oakley
Manchester, England
* * *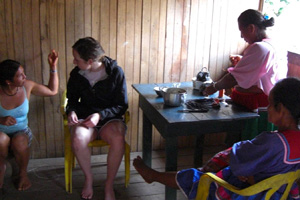 The jungle immersion program was a really unique trip. I had been to the jungle a couple of times before, but the program with Earth to City was a very different experience. The week was split up in two parts and it really gave us a chance to get to know the community and the current social issues they're facing. The first few days we spent in the Cofan community of Dureno, outside of Lago Agrio, which is the largest Cofan community in Ecuador. We stayed with a family and did all of the same activities they did, like hiking into the jungle to collect different seeds and palms then making traditional jewelry and artesanías from them. I really enjoyed the down time in the afternoons when I got a chance to interact with the kids in the community, playing soccer or swimming in the river.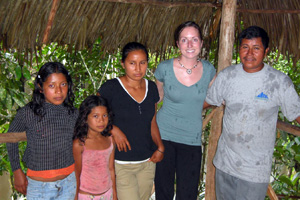 On Wednesday we left the community with Roberto, one of the Cofan leaders, and we went to the guardabosque on the other side of the Cofan territory where the Cofanes are stationed to protect their territory from illegal poachers. We spent two days at the guardabosque going out on hikes with the people who work there to classify and record the animals in the area. That area of the forest is one of the few primary forests in the northern orient and the Cofanes are working to preserve it. We saw a lot of different monkeys, wild deer, snakes, lizards, and a lot of bugs. It is amazing how much the Cofanes know about the forest and how much they will be able to tell you about the animals and medicinal plants. On the last day we went to an animal reserve where they raise and release animals such as Capybara, agouti, and other small jungle mammals.
The trip was great because it really encompassed every aspect of the Cofan culture, everything from traditions and daily life to current problems they are facing related to oil exploration and contamination. The thing I liked most about the week was that it didnīt feel like other trips where all the activities are set up to cater to the tourist; instead we were just there doing all the same things as the Cofan. Alejandro is the guide and he was with me the whole week. He's a lot of fun and he also knows a lot about the forest. As far as the practicalities of spending a week in the jungle, I would recommend bringing a lot of bug spray and donīt expect too many creature comforts you would find in a city. The bathrooms are rustic and most of the bathing is done in the river, but I am in no way jungle-savvy and it was no problem for me!
Emily Burnett
Naperville, Illinois, USA